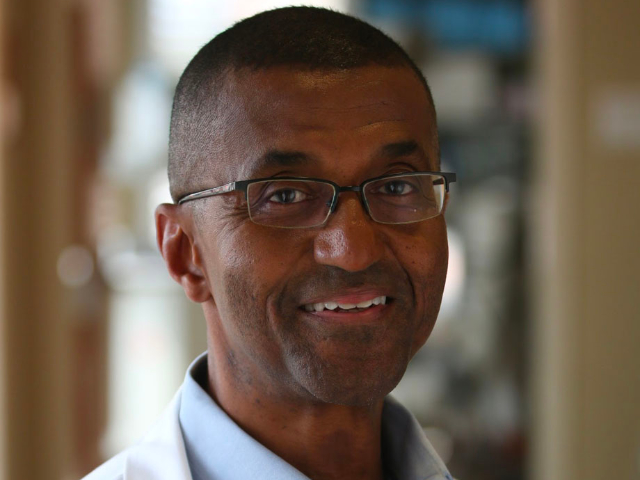 Michael Herron, MD
Captain Herron received his dual Master's degree from Carnegie- Mellon University in Urban and Public Affairs and Business Administration in 1983. He began his business career as a financial analyst for Burroughs Corporation in Detroit, Michigan. He was accepted to medical school at the University of Pittsburgh and obtained his doctor of medicine degree in 1988.
Afterwards, he completed two years of general surgery and a year of orthopedic research. He became a commissioned officer of the United States Navy as a reservist in January 1990. He attended direct commission training in Pensacola in 1991 and returned in 1992 to attend the Navy Operational Medical institute (at that time known as NAMI), becoming a designated flight surgeon in February 1993.
Captain Herron was assigned to the 1st Marine Air Wing, Futenma Marine Corp Air Station from 1993to 1995. The served as the Marine Air Group 36 flight surgeon and also the flight surgeon for VMGR 152and HMM262. He participated in multiple field and sea exercises including Cobra Gold, Ulchi Focus Lens and CARAT and attended cold weather-mountain warfare training with the Marines INCONUS. His next tour of duty was with the US Naval Academy where he was the brigade flight surgeon in charge of applicant, plebe and graduating midshipmen physical exams.
Captain Herron returned to the selected reserves after being admitted to Tulane University's radiology residency program in 1996. At that time he affiliated with DET C- New Orleans, Naval Hospital Pensacola as part of the PRIMUS program. He completed his training in 2000 and accepted a fellowship position at the Medical University of South Carolina. He studied Women's Imaging, concentrating on mammography and ultrasound; He remained as a clinical instructor for an additional seven months after obtaining board certification in radiology. Capt. Herron continued to drill in New Orleans throughout this period of time and performed annual training, multiple medical treatment facilities both INCONUS and OCONUS.
Captain Herron became the flight surgeon for VP-94, located in New Orleans in 2001 until its decommissioning after hurricane Katrina in 2006. He planned and provided medical support for the P3 detachment assigned to Camalapa, El Salvadore. He was assigned to the VTU for several months until an opportunity came available to become the flight surgeon for VR-54, also located in New Orleans, in 2007. He remained with the squadron until November 2010. He joined NR EMF Dallas One as a staff radiologist/flight surgeon/GMO in December 2010, cross assigned to Naval Hospital, Pensacola DET C. In 2012 Captain Herron was a member of the team that erected a modular 50 bed expeditionary field hospital at NEMTI, Camp Pendleton, California. Captain Herron was mobilized on November 2012 and served as the medical department head for the Expeditionary Combat Readiness Center under the guidance of the Naval Expeditionary Combat Command, Little Creek, VA. After his deployment, he became the senior medical executive for NR EMF Dallas 'One, in December 2013 and has participated in "COLPRO" (collective protection) training at Camp Pendleton in 2014 and Combat Support Training Exercise- Hunter Liggett, a joint exercise with the Army and Canadian Armed forces, the second quarter of FY 2015. He was recalled for active duty from June to December 2015 and served as the Fleet Surgeon for USNAVSO/4th Fleet. Upon return to reserve status, he assumed the duties of Wing Surgeon for the 4th Marine Air Wing, and is currently serving in that capacity until 30 November 2017.
Captain Herron's awards include Navy Marine Corps Commendation (3), Navy Marine Corps Navy Achievement, National Defense, Global War on Terrorism and Armed Forces Reserve medals. He has earned Fleet Marine Force and Navy and Marine Corps Overseas Service ribbons.